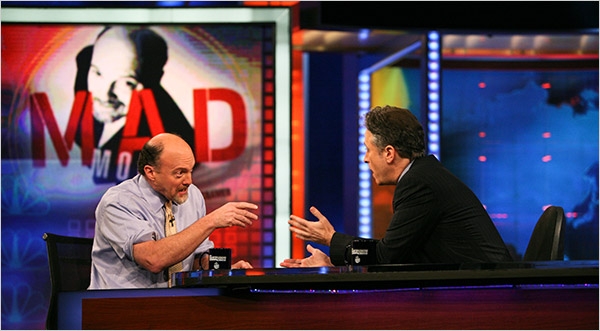 God bless Jon Stewart. If it wasn't for the Daily Show, I don't know that I'd be able to watch anything related to the news on TV. Seriously, I can't take it...everytime I manage to watch several consecutive minutes of mainstream media news, I want to throw things at my TV. And I love my TV. It's been so good to me.
The thing is, news (particularly news emanating out of the Beltway aka home for me) is painful. The things our leaders do, the things other leaders do...you'd think you were watching a competition of incompetence. It's so damn pathetic its hilarious. Particularly because nobody calls them on it. Enter the Daily Show. Stewart et. al. have no problem calling a spade a spade. During the Bush years, they didn't really even need to write jokes, things were that preposterous. They would report horrible things, but at least you could laugh. Then cry later. Possibly assault someone on the street walking into/out of a neoconservative think tank. I've never done that, by the way, nor do I condone such behavior. Not one bit. Really. Honestly.

But most important of all, they cut all the spin out. Instead of giving a damn about what each party said, they attacked the absurdity of the arguments themselves. And everything was absurd. Particularly Ted Stevens and his expertise on the internet/a series of tubes. I digress. You didn't get talking points from each party, seeped in lies (do I think one party lies much much more than another? Yes. That doesn't excuse the other party for its crap, though). You know, like the news is supposed to do.

This is the problem. Jon Stewart is not a journalist. The Daily Show is not a news show, per se. It is not competing with the CBS Evening News. It does not have the resources to have a bureau in Jerusalem to report on the Israeli-Palestinian conflict. It doesn't have a bureau in Baghdad. For the love of god, it has to use a blue screen to make it appear that its correspondents are reporting live from DC! And, oh yeah, why would they? It's a comedy show. A comedy show that does so well because it reports the truth about American politics without filters - something that makes it hilarious.

This "feud" between Stewart and CNBC has been great...and terrible. He obliterated Jim Cramer on an interview, and has gone to town on the financial cheerleaders that helped make this crisis happen. It is clearly not a gimmick. Stewart was obviously seriously infuriated, and his grilling of Cramer makes that point clear. But why is this terrible? Because...why is Jon Stewart the dude doing this? Why did Jon Stewart ask David Gregory why the media doesn't report about the illegal Israeli settlements and how that kills the peace process? Why did Jon Stewart have to tell the Crossfire hosts their partisan hackery (no actual news, just reporting and/or making love to the spin) was hurting America? Why did Jon Stewart have to shout down his friend John McCain on insane views on Iraq for two entire segments of an interview?

I think Bill Moyers was right. Jon Stewart is the Mark Twain of our time. The problem is, he's having to do the media's job. Sure, I don't expect CNN anchors to drop as many f-bombs as he does. Though that would be awesome. I do expect them to report...THE NEWS! If they want to highlight the views of different parties on an issue, fine. But that's not the news...how about some real freaking analysis? Do some research on topics you're reporting on. We need to know how much money we spend on our military bases overseas, how many of them there are, and what they do to public opinion of the citizens of whatever country they're in. We need to know how much money allocated to private contractors in Iraq has gone "missing". We need to know if welfare recipients are actually able to obtain adequate job training to enable them to get jobs once their cycle on welfare is finished. We need to know which industries are financing which politicians when contentious "American public versus corporate interests" issues are up for votes in Congress. We don't need to hear Republican or Democrat talking points on issues that have no real facts and don't really contribute much towards our understanding of issues. There's a place for that, and I'm not suggesting we cut that out, but that should NOT be the main focus of the news.

The issue is, the media might be structurally incapable of actually doing its job adequately. Since the 1970s, we've seen a major consolidation of the news. A handful of companies now own most of the mainstream media. That by itself isn't necessarily a problem, but the issue is, the FCC basically abandoned its duties with the 1996 Telecommunications Bill (which let consolidation happen to a degree previously never granted), and their regulations in general. Instead of insuring that the media does something, namely provide us a public good (good journalism) in exchange for the massive amounts of free money they get (through free use of airwaves, etc.), the FCC has opted to protect the media as a private entity. As a result, commercialism has infiltrated the press to a major degree, leading to a race for the bottom line. Instead of providing us a public good, the deregulated media has focused on making profits.

The thing is, good journalism costs money. You need financing to do good research, to have foreign bureaus, etc. Why is Fox News so profitable? Because it spends little on its actual news...shocking. Foreign bureaus have been the biggest casualties over the past 30 years - the level of downsizing and outright elimination of these bureaus is why no journalists know anything about foreign policy. Why did we get Iraq so wrong? Well, because we had no eyes and ears on the ground. Real media would have had inside sources, developed over years of being in the region, who could have gotten us the actual info that Iraq didn't have WMD. But, of course, we didn't have them. Instead, we had a media that used the Executive Office, DoD, and State as their sources for over two-thirds of their stories leading up to the invasion. Do you think those agencies had any incentives to, I don't know, not tell the whole truth???? Preposterous. As a result, how many Americans and Iraqis have died?

I'm not saying companies shouldn't make profits. I actually tend to be more of a free market person than not (even though I don't think the type of "capitalism" we have is a good thing). But when it comes to a public good like the media, our main watchdog over the government, and an entity that is supposed to provide us quality journalism in exchange for free use of airwaves, etc., the whole "profits" business needs to be thrown aside. If a news corporation wants to make money, fine. Just don't let it compromise journalistic standards. If it does, then you don't get free use of the airwaves. If only the FCC did its job, we wouldn't be in this mess today.

Yes, "new media", such as blogs (like this one!) are great, and have broken some major stories...Talking Points Memo comes to mind with the AG/Gonzalez scandal, but they don't have the resources ABC or CBS do. If we come to rely on people who are doing their own research from their laptops to report the news accurately, we're in trouble. No matter how brilliant and bad-ass I am, for instance, I can't just up and go to Baghdad to check with some sources about some behind-the-scenes negotiations on the Status of Forces Agreement. You need resources to really report the news. "New Media" isn't supposed to compete with "real media"...it's supposed to supplement it, and provide commentary on issues. Instead, we get real news from TPM, etc., and nothing but commentary from CBS, ABC, CNN, etc.

The scary thing is, most Americans have no clue about any of this stuff. Sure, some think the media is not the greatest, but they have no idea how much of a structural problem it actually is. The whole media model we have in place right now is built to fail. If a US president wants to launch an illegal war, I honestly don't think the press, short of massive grassroots opposition (and I mean more than the peak of Vietnam), can stop them. For the so-called leader of the free world, that is deplorable.

It's not like the media is going to tell us they're doing a terrible job. Most politicians won't, either...a weak press makes it easier for them to do their jobs aka catering to special interests. Only a major level of awareness of the problem at the grassroots level, and then major action, can do anything. Or else we'll have to watch comedian Jon Stewart become our generation's Edward R. Murrow instead of Mark Twain. As much as I love his show, that would be a tragedy of the greatest magnitude.